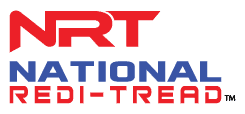 NRT OFFERS CONSTRUCTION PROFESSIONALS THE LOWEST COST, MOST DURABLE, LIGHT WEIGHT, CONCRETE STAIR SYSTEM AVAILABLE
Precast treads eliminate field pours, reducing clean-up, and streamlines floor to floor accessibility. Stairwell painting and clean-up can happen before the final installation of RHINO TRED®.
RHINO TRED® are built with a honeycomb core design, reducing weight by up to 70%. All treads are cut to exact length to ensure a perfect fit and clean lines.
Pour-in-place concrete requires the stairway be closed for 2 or 3 days to all trades while curing, whereas NRT can be installed with access to all trades within 1 hour.
RHINO TRED® BENEFITS
Eliminates concrete pour and cleanup costs.
Light weight design reduces shipment and installation costs. Only one person needed to install.
Full use of stairs, before installation of tread.
The steel pans accept many attachment methods for simple installation.
THE TOUGHEST TREAD
Special UHPC mix (10,500 psi) provides the toughest concrete tread in the industry.
ULTRA LIGHTWEIGHT
RHINO TRED® reduces weight up to 70%, a standard 48" tread is less than 34lbs each.
Installs by mounting to top of a steel pan that exceeds code requirements for weight.